Continuing our quest to keep you up-to-date on our projects, today we want to talk about a very special project involving an Arabic music ensemble that we are recording in a couple of weeks with Ken Habib.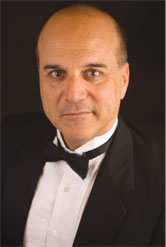 Ken Habib has written some wonderful traditional style music with traditional instrumentation.  Our session will take place on March 6th with some of the best Middle Eastern musicians from Los Angeles participating in the recording.  This could be one of the most interesting projects on the schedule next month.
About Mr. Habib:
Dr. Ken Habib earned his Ph.D. in Ethnomusicology at the University of California, Santa Barbara (UCSB) with specializations in the Middle East and American popular music. He has particularly concentrated on the music of the Eastern Mediterranean, and especially on the collaboration of the Lebanese superstar singer, Fairouz, and the Rahbani composers. Foci of his work include musical and textual analysis, use of musical arts in the creation of personal and social meaning, and experience of music culture in diaspora. He has taught music at Pomona College and UCSB, and he has taught Arabic at Santa Barbara City College and served as Assistant Director of the Middlebury College Arabic School. Dr. Habib also is a composer and performer, and his responsibilities at Cal Poly include direction of the Arabic Music Ensemble.